How it Works
If you can answer yes to any two of these statements, you need Lucidity!
Our company requires at least one full time person spending more than 50% of their time researching and analyzing content to provide answers to management's long-term strategic questions.
The questions our company must answer are complex and strategic addressing issues related to R&D, target markets, competition, products, market share, ROI, branding, value propositions, product pricing, entering new markets, revenue generation and strategic planning.
Our analysis requires the retrieval of specific supportive and contradictory data from a wide variety of internal and external sources.
Our company competes in a dynamic and fast-paced evolving global environment where the time available to write insightful analyses is highly compressed.
Why is the initial data discovery process inherently inefficient?
Traditional discovery processes deliver disconnected data in random order
Analysts must read through hundreds of irrelevant documents to discover small bits of pertinent data
Analysts must decipher the data, organize it and format it before they can even begin to analyze it
Global market intelligence leader IDC explains, "Most large companies lose over $8,000,000 a year searching for critical information they never find."  Don't let this happen to you.
How Lucidity Works
Step 1. Identify Your Research Topics:
Lucidity helps you carefully define your search criteria to: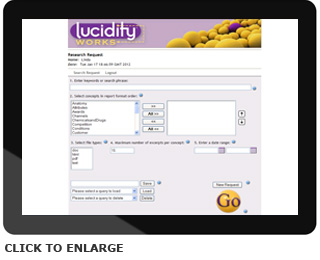 Reduce the volume of search clutter
Reduce the time required to search, retrieve, and organize the data
Target only the most applicable data
Step 2. Get the Results You Need.
Lucidity swiftly and effectively isolates only the most pertinent data so you can: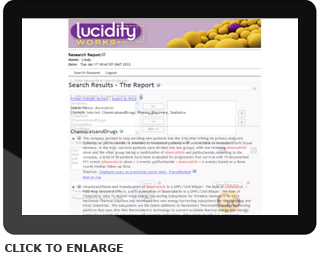 Focus your analysis on truly relevant information
Quickly begin your analysis
Experience more "ah-ha!" moments
Step 3. Create Superior Reports.
Lucidity saves time and money by: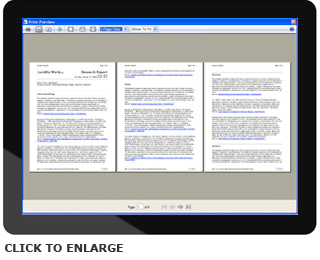 Automatically formatting the data into MS Word reports
Increasing time for presenting results and making recommendations
Developing effective strategies
Making smarter decisions
Call us today at 800-830-2595 or e-mail us